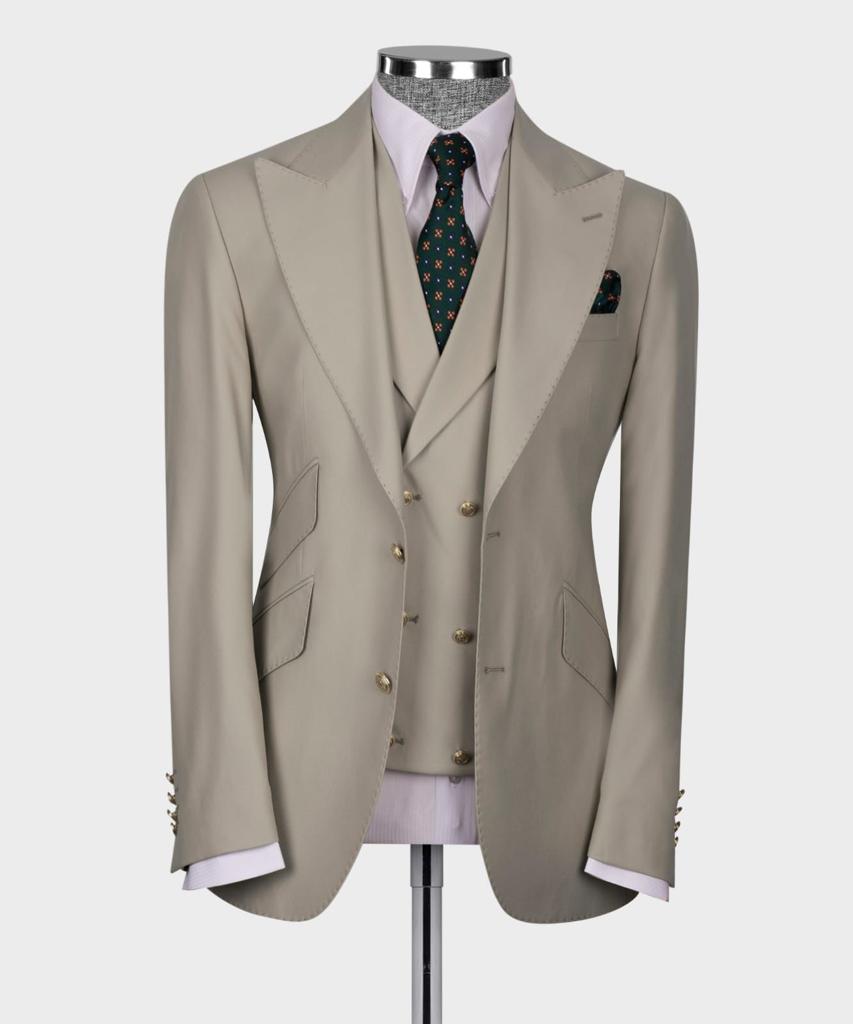 Cubes classic 3p
€340.00
Regular price
€370.00
off
Buy now, pay later with Klarna
Description
PRODUCT DESCRIPTION
PRODUCT DETAILS
Be the best dressed in any setting.
Type: 3P

Buttons: Golden

Care: Dry Clean Only
(shirt and tie not included)
CARE
The use of a quality coat-hanger to give your suit a relaxed rest.

The use of a garment bag in order to prevent from dirt and dust.

Occasionally steam and brush the suit.

Do NOT wash it by hand or machine. Only make use of dry cleaning.

Air your suits after use for between 24-48 hours.
AT GROGO…
Our suits are made from the highest quality fabrics for every man who wants to feel special. Furthermore, what really makes us stand out is our exclusive customer service. At Grogo, we believe that there is only one boss, and that is the client.
We have a great collection of suits available for you for any occasion.
In our store, we make sure that our clients are guided and taken care of throughout the whole experience at GROGO. The customer is assisted by a Personal Advisor in the store. Our advisors will help in the selection of the garments and they will make sure the garments are in the perfect fit.
ALTERATIONS
We always recommend altering a suit to the perfect fit by a tailor. Fortunately, we have our own in-house tailor at your disposal. Through the fitting process with the personal advisor, our tailor will make sure the garment will be altered to your body. However, we are only able to offer this service at our physical store in Antwerp.
(NOTE: Our suits belong to the segment of Ready To Wear. Alterations on the existing standardised suits will be done by our in-house tailor.)
TIPS ON THE PERFECT FIT
Shoulders

: The shoulders on the suit jacket should naturally stick to the shape of your shoulder. It should not be extending or fall short.

Body: Your suit jacket should fit close to the body. However, it should not be to the extent that it is pulling.
Golden rule: Always leave the bottom button open!
Jacket Length:

 

In order to maintain the correct length, your suit jacket should drape enough to cover your rear. It should end in front around your crotch.

Sleeves:

 The right way is by showing 1/2" 1/4" of shirt cuff from underneath your jacket sleeve.

Trousers Fit:

 

The fit of your trousers should be not too tight, just trim. The pockets on your side should lay flat against it. A slim taper on the leg will help to maintain a slim fit look.
For more information regarding Shipping, Payments and our Privacy Policy. Click on this link.
Product Qualities
Ultimate Comfort and Effortless Care:
Indulge in unrivaled comfort with fabric that endures. Ours is wrinkle-free, breathable, stain-resistant, and odor-neutralizing a compelling promise of luxury and ease.

Effortless Elegance, Always Immaculate:
Elevate your style with our fabric, offering both luxury and practicality. It's wrinkle-free, breathable, stain-resistant, and odor-neutralizing an assurance of elegance with zero effort.

Luxe Comfort, Simplified Maintenance:
Experience pure comfort without the hassle. Our fabric is wrinkle-free, breathable, stain-resistant, and odor-neutralizing a luxurious choice made even more convincing by its convenience.
Shipping & Returns
Shipping:
The shipping time in Europe is 1-3 business days. Shipping time worldwide is usually 2-5 business days, depending on where you are in the world. We aim to dispatch all orders from our warehouse within 24 hours.

The shipping costs are calculated at the checkout!
Returns:
Unhappy with your purchase? No worries! You can return it for a refund within 30 days of placing your order, provided the goods are in the same condition as when you received them, i.e. not damaged. The refund is the full cost of the products being returned, excluding shipping. The postage costs incurred returning the item to us, will not be refunded. The customer should pay for the shipping costs!
Express delivery worldwide
Free shipping for orders over €60
Buy now, pay later
Buy now and pay later with Klarna
14 day returns
Not satisfied money back guarantee